Welcome
Update: Covid 19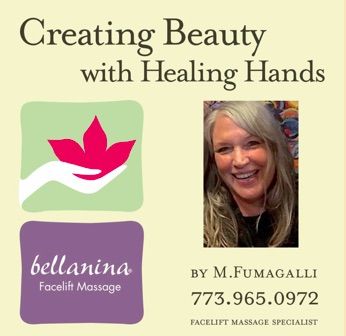 I look forward to welcoming you back into my treatment room! I am fully vaccinated for Covid 19 as of March 9, 2021. I follow all guidelines set out by OSHA, the CDC, and the American Massage Therapy Association to ensure that we are safe to be together during massage therapy and facial treatments. I worked very hard during the lockdown to complete all necessary training about compliant operation while the virus is still active in our community; obtained certification in sanitation for my industry, and completed all my continuing education requirements for the 2021 massage therapy license renewal within the State of Illinois.

Among the directives that will be mandated are the following: I attended a webinar on how to safely reopen a massage therapy practice: I will provide in-office hand sanitizer and/or available hand washing to all clients before and after your treatment; I will wear a new mask and a clean shirt for every treatment; all soft padding on the massage table, face cradle, bolsters, furniture etc. will be covered with water-proof material that is easily cleaned and disinfected between each treatment; all touched surfaces will be cleaned and disinfected between each treatment and floors washed; each client will have fresh linens, face cradle covers, towels, and blankets for their session; I will provide paper masks for clients if you don't have one as you are required to wear a face covering when you enter the building and throughout our time together; remote payment will be encouraged to avoid use of pens and handling of paper/phone; all clients will be pre-screened for symptoms and asked to sign a form prior to treatment. I will email it to you ahead of your appointment. Screening includes a temperature check with a forehead/inner wrist thermometer when you enter the treatment room, exposure and risk behaviors such as working in a hospital or facility with Covid 19 patients, (or living with someone who does), living with someone who is infected, visiting patients in nursing homes, appropriate social distancing and protective facemask guidelines behavior. I will diffuse Thieves Essential Oil (known for its antimicrobial properties), and will run an AirRestore air purifier/cleaner in the treatment room at all times; the room will be thoroughly cleaned and sanitized between every client, and I will run a UV sterilizing light according to the manufacturer's instructions. In addition to wearing a fresh mask in every session, I will wear a sanitized face shield when doing facial treatments. Please note: Treatments will be limited to 60 minutes as it is personally difficult for me to do therapy sessions in a facemask longer than one hour.

Cancellation and Refusal to Treat Policy: If your appointment is accepted through pre-screening, and something changes in your risk category before you arrive for your appointment, we both reserve the option to cancel without the requirement to pay for your missed session. If you are able to support my regular 24 hour cancellation notice policy, that lead time will help me manage my schedule more effectively, and will be appreciated.
Product Sales: ma loo botanicals for your body, and Fufluns Hemp products will still be available for retail purchase. However, they will be kept in a glass-encased cabinet and out of range from client handling. I will be happy to help you select the product of your choice and retrieve it for you from storage.

Thank you for your cooperation with the new guidelines. My priority is to keep everyone safe and practice with the highest integrity. Looking forward to seeing you in the treatment room.
******
Welcome to my Website. If you are looking for a professional massage therapist, you have come to the right place. I am trained in a variety of modalities, and my approach to regular bodywork includes a combination of the ones you see listed.
For an overview of services, click on the "Services & Rates" page to learn more about the various techniques I use in my private practice.
Some treatments are sequence specific such as Pregnancy Massage, Lymphatic Massage, the Bellanina Facelift Massage, and the Bio-Therapeutic Microcurrent Facial. Your home care routine enhances the facial procedures by using my private label skin care line: ma loo botanicals. They are cruelty free, paraben and sulfate free. My business will donate 5% of all prepaid packages of 4 facial treatments to the local organization, My Block, My Hood, My City https://www.formyblock.org/mission.
In addition to bodywork, I endorse three health-related products. You are welcome to click on the links below to explore how these formulations will enhance your well-being and purchase them for your personal use.
The first formula is a homeopathic transdermal micro-dose human growth hormone gel offered through NewuLife, and the second formula is a Chicago-based hemp company called Fufluns Food. Their CBD products are contaminant free, planet friendly, and sourced from a sustainable organic farm in Colorado using biodynamic farming methods. It is an artisanal small batch process -- only flowers and buds are used in this formulation -- hand picked and lovingly prepared with minimal processing. Third party tested in FDA approved facilities for purity. Enjoy this broad spectrum tincture or ingestible capsules that is cannabinoid, plant terpene and phytonutrient rich for humans and animals. Use code: MF10 at checkout for a 10% discount. The newest addition to my recommended self-care product line is a portable frequency medical device called Healy, introduced to the United States market on May 1, 2020. See link below for more information. I also carry retail items for sale.
https://marilynfumagalli.newulife.com
About Healy Resonance: https://www.youtube.com/watch?v=Y2eW6__a3Hg
And to order Healy: https://www.healy.shop/en-us/partner/?partnername=marilynfumagalli.me.com
Here is a link to my Facebook page:
https://www.facebook.com/Bellanina-Facelift-Massage-Chicago-and-Bio-Therapeutic-Microcurrent-Facial-990097657669820/?ref=bookmarks
The standard massage is a full 60-minute hour that includes optional aromatherapy to enhance tranquility and pain management.
If you would like to set up an appointment with me, click on "Contact Me" and send a message. I will respond to you and confirm the details of your appointment. We have the option to do a short intake and answer any questions you might have prior to your appointment, otherwise, we will do an intake in person when you arrive. Text is an excellent way to connect quickly: 773-965-0972.
Outside of an emergency, the courtesy of a 24-hour notice is expected to reschedule or you will be responsible for covering the cost of your missed appointment. If I have the flexibility in my schedule, I am happy to accommodate shifting your appointment time if needed. Last-minute appointments are sometimes available, so don't be hesitant to check in with me if that nagging shoulder pain is keeping you awake at night.
There are thousands of therapists in the Chicagoland area, and I am honored to be your choice. I will take very good care of you and your loved-ones -- from those who are experiencing their very first therapeutic massage -- to seasoned veterans. All of you will appreciate capable, healing hands in a safe, respectful, clean, and caring environment.
I accept payment in cash, check, credit card, Chase/Zelle QuickPay, and PayPal.
I offer referral discounts and discounts on pre-paid packages for the Bellanina Facelift Massage, Bio-Therapeutic Microcurrent Facial as well as discounts to business members of the Sentieri Casa Italiani: http://www.sentieri.com
Gift Certificates are Available